If you are interested in rehoming one of our dogs 
Please give us a call first to discuss whether you are suitably matched and we can then arrange an appointment to meet your chosen dog.
Danemere Animal Rescue is open to the public from 11:30 - 3:30 every day.
Home checks are required before any dog is rehomed. This can take up to 7 - 10 days as all of our home checkers are volunteers. All of our dogs are vaccinated, microchipped, de-flea'd, wormed and neutered (if old enough). The adoption fee for all dogs is £125.00 which is non-refundable.
If you have seen a dog on our website / Instagram / Facebook page that you are interested in please give us a call on 0190545655 to discuss whether they are still available. Please be aware that we are unable to reserve any animal via phone or email. You will have to visit us and meet the animal before we can reserve the animal to you and start the adoption process.
Upon arrival please report to reception.
Please take a look on our homing procedures page for more information
The dogs below are available for rehoming. Please take a look:
Nelson - Labrador - D.O.B 13/08/2020
Meet Nelson
A dog that will need an experienced owner, kind, understanding and very patient.
He needs to be able to put his trust in you, this will not happen over night, it will take time.
Nelson is only a young Labrador who has boundless energy, who will require plenty of exercise, the ability to handle him on a lead as well as being able to run him off the lead. He is currently being trained to walk using a canny collar and is doing really well.
He needs a home with no children or other pets as he has behavioural issues. He is very possessive over his toys and food, to the point where he shows aggression. He has never bitten us, but then we would not push him by trying to take his toys away from him.
We have worked hard with Nelson over the last few months, he now trusts us and looks forward to a fuss.
We are looking for an owner who has experience with dogs that show signs of aggression who is prepared to come up over a period of weeks to get to know him, even more important to give Nelson time to get to know and trust them.
Update 07/06/22
Nelson has been with us since August 2021, almost a whole year. Under normal circumstances we would have hoped that we would have found him his forever home sooner, however, being with us for all these months have helped us gain a good understanding of Nelson and his individual requirements and how we can ensure he gets the best possible home that will see past his issues and accept him for who he is and who he most definitely can become with the right owner.
Ideal home:
Active – cycling/agility/ walker/runner
Nelson needs someone that can match his energy by keeping things fun and interesting. The ideal owner will be someone who can keep his brain engaged with lots of activities to keep him stimulated. Nelson reacts really well to positive reinforcement techniques.
Nelson is like a toddler in a Labrador body, he's full of energy, and he's very inquisitive and just loves life. Every day is a play day for him. Nelson loves water, playing fetch, destroying the odd teddy and sniffing out hidden treats (sometimes he'll play hide and seek with us!)
Behaviour:
Although Nelson has the happy go lucky side to him he does have slight behavioural issues with guarding.
If Nelson has a high value toy (i.e. a new toy) he will parade it around as if to say 'look what I've got', in this instance it's a case of you can look and share the enjoyment with me but do not touch me or my toy. Until the initial excitement has worn off Nelson will not easily give up his toy/let you stroke him.  This can be easily managed if you are playing fetch if you distract him with another toy.
Typical Labrador Nels is very food orientated and the best time of the day (close 2nd to play time) is breakfast and dinner. Nelson does display signs of food aggression but will sit and wait for you to put his food bowl down – then you must allow him to eat in peace and step away. The only time he will get protective is if you get too close to him whilst there is food in his bowl, once he has devoured all biscuits he will allow you to take his bowl away.
Respecting his boundaries is key, he will give off signals to show you that you are overstepping his comfort zone.
Basic commands –
Sit, paw (each one), stay, wait, 'find it', treaties, 'touch', in/out.
Treats are the way to Nelsons heart (and attention!), he is highly trainable! Nelson used to be so food orientated to the point where he would get very excited at the sight of a treat and snatch. He still can sometimes forget his manners when taking a treat but he has got much better since we have started training him, he will sit and take it much better now but still needs further work.
Once Nelson has bonded with you his recall is good but if he has something more interesting than you in his sights it can take a few calls to regain his attention.

Gets the Zoomies very easily!

Happy to be sociable and make friends as long as there are no toys/food involved.
Visits are via appointment only for Nelson, please give us  a call to discuss.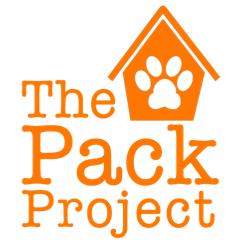 We have recently been working with The Pack Project recently by looking after and housing their Romanian rescue dogs whilst the team work hard to find a forever home for them.
The Pack Project's mission is to find homes in the UK for stray and abandoned dogs from Romania and to reduce the stray population in Romania through neutering programmes.
To help them find the best possible home we have decided to include them on our rescue page to reach another audience and hopefully help them find a place to call home.
Adoptions cost £295.00
If you are interested in any of the dogs below please get in touch with  info@thepackproject.org to apply or visit their website http://thepackproject.uk.w3pcloud.com/adopt-a-dog/ to fill out an application form.
The original information given by The Pack Project:
"Georgie - he is very shut down in kennels, very reactive to having his harness / lead on and did become reactive to his adopters to the point where they didn't feel able to manage him. He is going to need a calm environment and gentle handling in order to help him build his confidence to be able to get to a point that he can be rehomed. So he is likely to be a longer stay."
Experienced home only
Adult only home 
Our development with Georgie:
Since being with us Georgie has been doing really well! He's a completely different dog to the one that first arrived with us - scared of everyone and everything he's now learned to trust almost all of the staff that look after him although he can still be wary sometimes with strangers.
He's always wagging his tail when he sees us and enjoys a fuss. He absolutely adores walk time - its the best time of day and will often forage for abandoned toys out on our field and carry them back to the kennel with him (we like to think of it as a treasure hunt) and likes to take his time to sniff when on walkies.
Always sits patiently for his food & treats.
Loves playing with toys but can often shred soft toys.
He is also less reactive towards other dogs- not to say we would walk him close to another but this is small progress.
We have found that he is definitely better and more trusting towards women.
Georgie is a fantastic dog who just needs a patient owner who is willing to give him time for him to show his true personality.