If you are interested in rehoming one of our cats
Please give us a call first to discuss whether you are suitably matched and we can then arrange an appointment to meet your chosen cat.
The rescue is open to the public for viewing between 11.30am - 3.30pm daily. You need to make an appointment via telephone prior to arrival. Then report to reception on arrival and a member of staff will show you to the cattery. The fee for adopting a cat is £75.00. They are all vaccinated, microchipped, de-flead, wormed and neutered (if old enough) and vet checked.
If you have seen a cat on our website / Instagram / Facebook page that you are interested in please give us a call on 01905 345655 to discuss whether they are still available. Please be aware that we are unable to reserve any animal via phone or email. You will have to visit us and meet the animal before we can reserve the animal to you and start the adoption process.
Upon arrival please report to reception and a member of staff will be able to show you the cattery.
If you would like more information please visit our homing procedures page.
Below are the current cats available for rehoming:
Bella arrived at Danemere after being handed into a local vets as a stray. The vets had made multiple of failed attempts to contact the original owner and decided to hand her in to us. The previous owner has since been in touch and is happy for us to re home Bella due to her not getting on well with the other cat and dog in the previous home - due to this she would often run away.
Although Bella does not get on well with other cats or dogs she absolutely adores people. Bella is very talkative and loves kisses and cuddles.
Since being with us she has settled in really well and will bow her head for head scrunchies and chin tickles - she is such a sweet girl!
Lap cat & total fuss pot!!!
Dreamies are her favourite thing ever!
Bella has only been with us a short while but we will update with more information as we get to know her.
Shelley has sadly returned to Danemere through no fault of her own, unfortunately she was misunderstood in her new home.
Shelley originally found herself at Danemere due to her previous owners passing.
Prefer a house without other pets but has lived with another cat in her previous home and would avoid each other. She was also temporarily paired with Cindy whilst being at Danemere where they lived amicably together but again would prefer her own space.
Cindy is  a lap cat and loves nothing more than curling up for a good snooze.
Very friendly, enjoys a fuss.
Likes to curl up in /under her blanket for extra coziness
Romeo & Lark (f), DSH, 2.5 yrs
Brother and sister Romeo & Lark came to Danemere due to having trouble with neighbors in their previous home. Unfortunately one of the neighbors were extremely cat phobic and being little monkeys both Romeo & Lark would frequently pay a lot of unwanted visits. This became an ongoing problem and sadly the hard decision  had to be made.
Wary of dogs
Very affectionate
Very good 'mousers'
Ideal - Farm / lots of land to explore, hunt and roam freely.
Cat flap
Romeo is the more inquisitive one of the duo.
Both will purr away like a motor from head rubs.
Romeo likes to sniff your face - a little quirk!
LOVE A FUSS!!!!
Romeo & Lark are currently in their adjusting period, getting used to their new surroundings - it can be a little over whelming at first.  However, they both enjoy a gentle fuss. Once they have both settled in we will update with details about their characters from our perspective.
UPDATE 8/11/22
Both Romeo and Lark have now fully settled into the cattery environment and they are absolutely wonderful cats, complete and utter cuddle bugs. If you are giving a fuss to one the other will come over and nudge you for attention (good job we have two hands!). Romeo loves to be picked up for a snuggle and will lay down on your lap where as Lark prefers to come to you but equally loves cuddles and will purrr with happiness. Lark enjoys playing with toys and will chase balls.
They are such sweet cats will make a great addition to the family.
Harvest, Hedge, Oakley - DSH,
Descriptions:
Oakley (m) - Tabby & white
Bramble (f)  - Tabby - REHOMED
Fern (f) - Black - REHOMED
Harvest (m) - Tabby & white (more white)
Hedge (m) - Tabby & white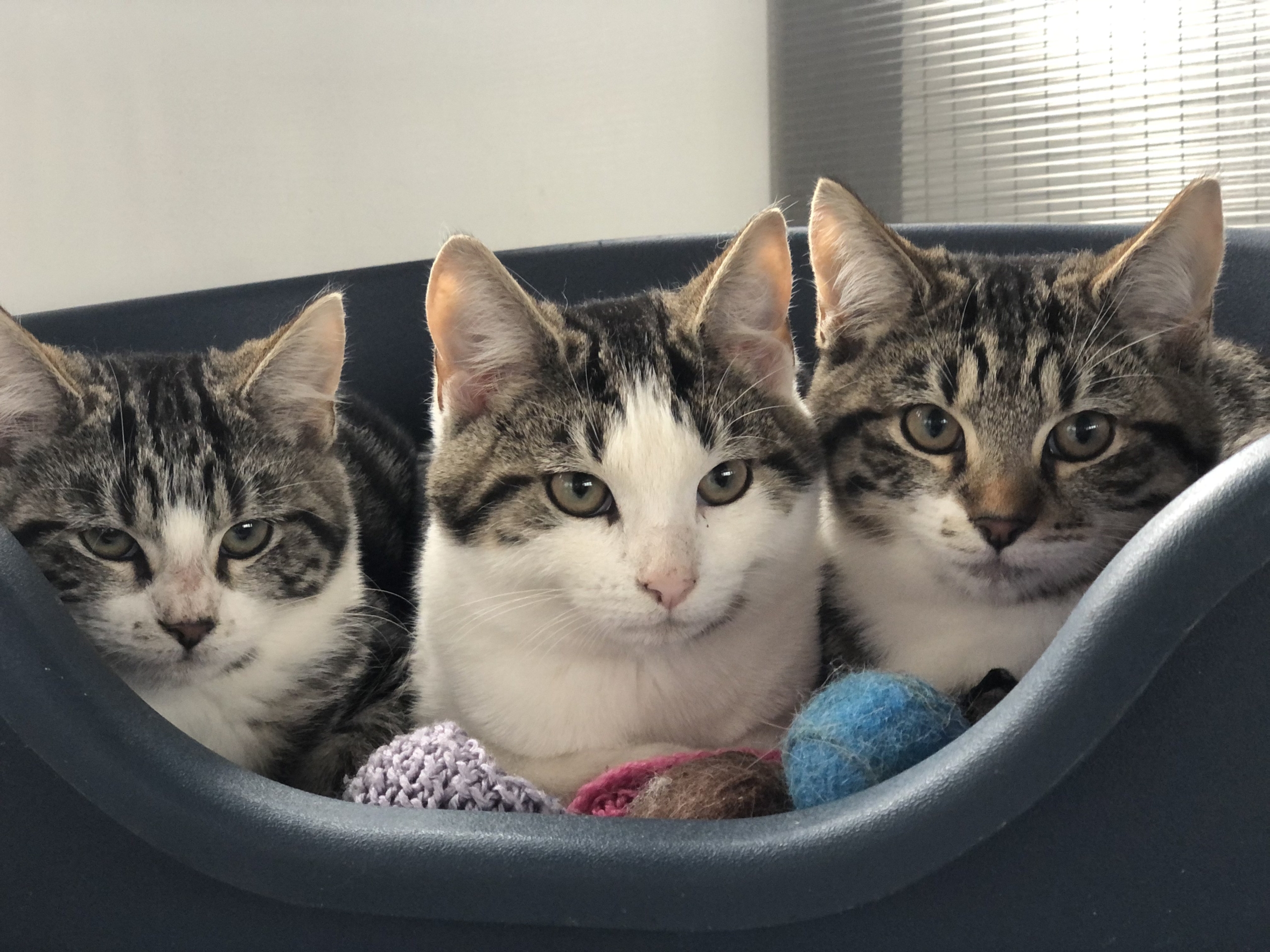 These kittens were found right here at Danemere at the start of September in one of our Poly tunnels where we grow our plants. We were not able to locate mum but decided to bring them out of the cold and into our cosy cattery.
Due to being raised outside and having very little human interaction during their first moments they can be very timid and wary of being approached.
We are working with them daily to gain trust and allow them to build their confidence. Slowly they have started to ease off the hissing and spitting and will allow a gentle stroke but still likely to try and hide if you try to give too much interaction, they need a lot more one on one time to bond.
Given that they are just kittens, we will not give up hope yet to see their real personalities shine., We are hoping with time we will see lots of progress and will update!
Every meal time you will hear them all singing - a purrfect orchestra of meows.
Very well bonded siblings - always cuddled up together therefore we will only rehome in pairs.
UPDATE 8/11/22
Oakley has started to become much more trusting of us humans and became relaxed enough to start purrring in content when being gently stroked. He is also getting used to being handled (picked up).
Hedge & Harvest still have a while to go before they can trust us fully but they have stopped hiding away when being approached for a fuss.
These brothers have grown in confidence and are starting to become more  trusting and curious with us.
We still have a while to go but the progress they have made is great, we know that in a calm home environment they will flourish.
Gizmo - DSH, Ginger, Male, 10 yrs
Twinkle - DSH, Tortie, Female. 4 yrs
Poppy has since been rehomed
Gizmo, Twinkle and Poppy came to us due to a family bereavement and they could no longer be cared for.
Gizmo is a very sweet boy, he adores cuddles and is definitely what you would consider a lap cat. Gizmo has lived with dogs previously and gets on really well with them - we were told that he loved being around dogs. Gizmo likes to go outside and explore via a cat flap.
Twinkle likes to be carried and picked up as if she is a baby - again very cuddly and loves people. Has lived with a dog previously with no issues. Twinkle had access to the outside via cat flap however she wasn't a fan of the outside and much preferred the comfort of being indoors. Since being in the cattery she has been very interested in seeing whats beyond her enclosure so perhaps having the option of being able to go in and out as she pleases might be good for her but she would also suit being an indoor only cat.
Poppy is again very friendly and cuddly and also enjoys being picked up for a cuddle, we were told that she can be slightly more timid with new people however since being with us she's shown a lot of confidence and will always get out of bed to say hello and approach us first for a fuss. Poppy is not a fan of going outside, prefers her home comforts.
We are willing to split these three lovelies up into their forever homes.
Georgie - Tabby & White (F)
Sidney - Black & White (F) SIDNEY HAS SINCE BEEN REHOMED
Sidney and Georgie came to our rescue centre through no fault of their own, sadly due to a housing issue they could no longer be cared for.
Sidney and Georgie will always say hello and welcome a fuss, Sidney can be a little bit more reserved and it can take her a little bit longer to adjust.
Both cats are very playful and enjoy being groomed.
In their previous home they were given the option of going outside to explore but stayed close and never ventured out of the garden so were predominantly kept as house cats.
Chester has found himself with us due to his previous owners allergies.
Chester is a big cuddle bug, he adores fuss and attention so much so he will give 'love bites' if he gets too carried away, this is not aggression based he just can never get enough attention! Sometimes will do it when he's hungry too.
Chester is a playful boy, he enjoys cat teaser wands and loves balls.
Likes to go outside via cat flap. He adores being outside and will spend a lot of time exploring  and will come back in the evening for food and fuss.
Doesn't like to be groomed  however having such a beautiful fluffy coat this is necessary to keep from discomfort and  matting.
Chester has lived with a dog before but would prefer being the only pet. Possibly would be ok with a dog that is laid back and wouldn't bother Chester too much (Chester gets nervous and defensive during close contact with dogs).
Tim arrived with us due to his previous owner sadly passing away.
Tim has a tendency to be quite shy but once you start chatting to him he starts to relax and welcomes a good fuss (especially cheek/chin rubs!)
Does not like to be picked up
Never lived with another cat or dog before
We have very little information on Tims background given the circumstances of his arrival. We will update as he settles into the cattery and we get to know him.
Spinks, Shadow & Cookie -
Spinks - DSH, Male, Black & white, 1 yrs
Shadow - DSH, Female, Tabby & White, 1 yrs
Cookie - DSH,. Female, Tabby with white paws, 1 yrs.