If you are interested in rehoming one of our cats
Please give us a call first to discuss whether you are suitably matched and we can then arrange an appointment to meet your chosen cat.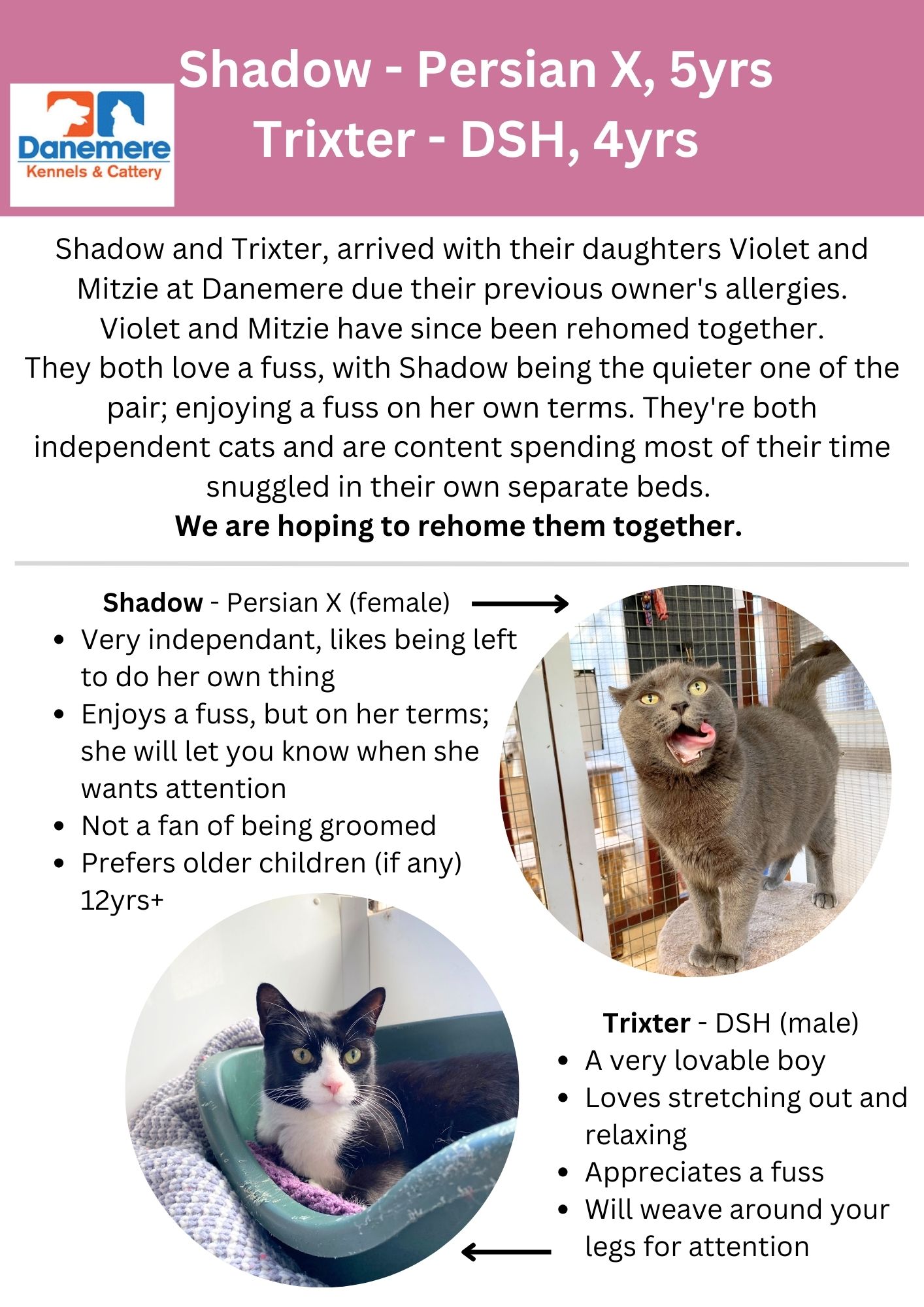 The rescue is open to the public for viewing between 11.30am - 3.30pm daily. You need to make an appointment via telephone prior to arrival. Then report to reception on arrival and a member of staff will show you to the cattery. The fee for adopting a cat is £75.00. They are all vaccinated, microchipped, de-flead, wormed and neutered (if old enough) and vet checked.
If you have seen a cat on our website / Instagram / Facebook page that you are interested in please give us a call on 01905 345655 to discuss whether they are still available. Please be aware that we are unable to reserve any animal via phone or email. You will have to visit us and meet the animal before we can reserve the animal to you and start the adoption process.
Upon arrival please report to reception and a member of staff will be able to show you the cattery.
If you would like more information please visit our homing procedures page.
Below are the current cats available for rehoming: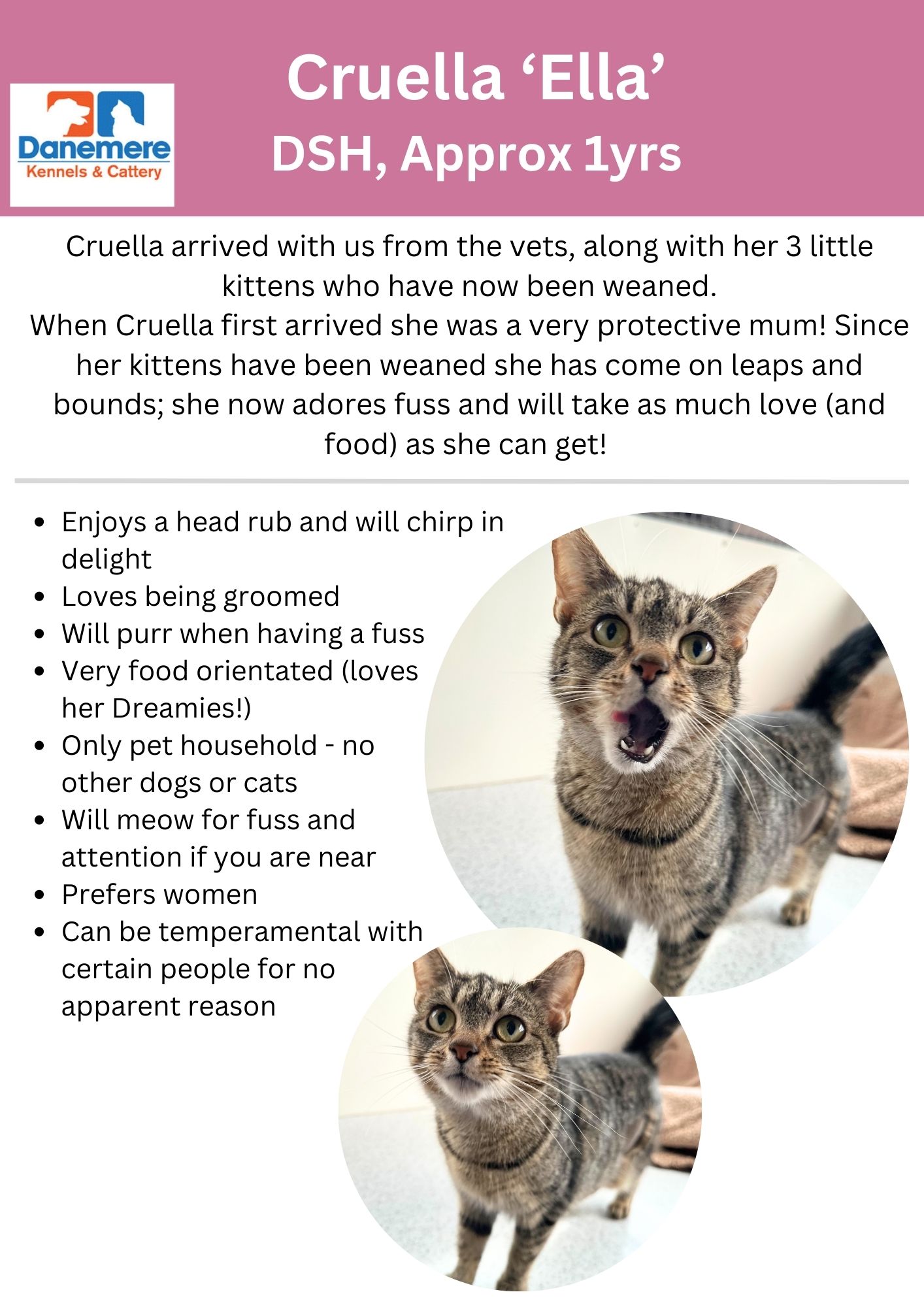 Bailey arrived at Danemere due to the previous owner moving house and were sadly unable to take him along with them.
Loves to sprawl out sunbathing

Will roll around and weave in

between your legs for extra

fuss and attention

Good with children

Very laid back and 'chill'

Loves the outdoors

Bailey does not get on

well with other cats,

the previous owner

stated that he might be

better off in a more rural

area with less cats around

Bailey did not have

access to a cat flap in his

previous

home

Bailey does not

like his sides being touched

Can be wary of strangers at

first but soon warms up to you,

asking for fuss once he is confident
Dumbledoor arrived at Danemere as he was not getting on with his previous household dynamic.
We have found that he can become easily 'fed-up' which can result in him being temperamental and act without warning.
He would be more suited to a farm life where he can do his own thing and spend his days chasing mice.                                          
Dumbledore is a strongly independent little man who is very content with his own company

Needs a lot of outdoor

space i.e small holding or

farm with constant access

and the ability to come and

go as he pleases

Not good with children due

to his temperamental

nature

Only pet household
Shadow - Persian X, 5 yrs & Trixter - DSH, 4 yrs RESERVED (Trixter)
Shadow and Trixter, arrived with their daughters Violet and Mitzie at Danemere due their previous owner's allergies.
Violet and Mitzie have since been rehomed together.
They both love a fuss, with Shadow being the quieter one of the pair; enjoying a fuss on her own terms. They're both independent cats and are content spending most of their time snuggled in their own separate beds.   
Can be adopted separately              
Shadow - Persian X (female)
Very independant, likes being left to do her own thing

Enjoys a fuss, but on her terms; she will let you know when she wants attention and can be temperamental

Doesn't like to be groomed

Prefers older children (if any) 12yrs+

Can tolerate being picked up, but prefers not to

Unsure about whether she would be okay with other dogs/cats 
Trixter - DSH (male)
A very lovable boy  

Loves stretching out and relaxing

Unsure about whether he would be okay with other dogs/cats
Bobo & Sasha - DSH, 12 yrs 
Sasha and Bobo arrived at Danemere through no fault of their own, as their owners were moving abroad and they felt it unfair to take them.
They are brother and sister, so we'd like them to be re-homed together.                                                                      Sadly these two are often overlooked! Despite their age they are an extremely well natured and lovely pair.        They would be a lovely edition to any home dynamic.
Both love a fuss and a good cuddle

Very laid back, often seen together, lay side by side just watching the world go by 

Love their Dreamies!

Don't mind being picked up, apprecative to some snuggles!

Lived with young children in their previous home 

Had access to both indoor and outdoors in previous home, using a catflap

Loved lounging around in the garden in their previous home 

Was around a dog in their previous home
Hawthorn, Hazel, Hemlock, Hickory - DSH, 16 weeks
Born here at Danemere in May.
This litters' mum was brought in as a stray. They have been weaned and are all healthy.
Hickory (BLACK) - the most confident of the group, will rub his head into your hand for a fuss
Hawthorn (TABBY) - Shy and is wary of being touched 
Hazel (TABBY&WHITE) - Shy and likes to seek comfort in a box or covered bed
Hemlock (BLACK&WHITE) - Very laid back
To be rehomed in pairs.
Isla, Inka, Ivy - DSH, 12 weeks - ALL RESERVED
Born here at Danemere in June. 
This litters' mum was brought in as a stray. They have been weaned and are all healthy.
With their growing confidence and independence they have become naturally inquisitive and energetic kittens.